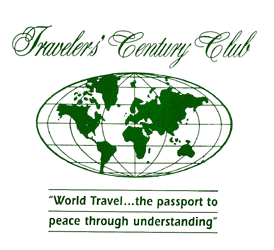 Northern California Chapter
The Northern California Chapter of the Travelers' Century Club meets four times a year. Our members share a passion for travel and a desire for knowledge and experience that takes us to every corner of the globe. All members of the Travelers' Century Club have visited at least 100 countries.
---
Meetings
Future meetings will be tentatively held on the first Saturday of March, June, September and December:
September 4, 2004
December 4, 2004
March 5, 2005
June 4, 2005
Past meetings were held:
---
Mailing List
If you are a Northern California Chapter club member and would like to subscribe to or unsubscribe from the mailing list, please see our mailing list information.
---
Members
Tim Carlson
Mary Carson
Magdalene Crowley
Donald Fillman
Richard Frank
Eleanor Helz
Betty Knudson
Helen Kosilla
Charles Lafferty
Gloria Mitchell
Richard Mitchell
Sanford Smith
John Usher
Dick Zink
---
If you are interested in becoming a member, please visit the main Travelers' Century Club website.
---
Send additions and corrections to this page to: maggie at crowley dot cx Updated: 1/17/02